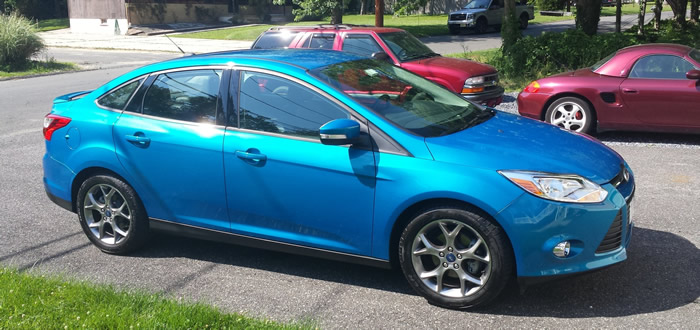 Review of Ford Focus Manual
Traded in.
Problem
While I am blessed to have more than one vehicle, it became a reoccurring theme that none of my vehicles were capable of being a "daily driver."
I set out to rectify this situation by finding a budget-minded, fun, daily driver.
Solution
Enter the Ford Focus sporting the rare manual transmission. I tested so many  cars first! Older cars, new cars, small cars, big cars, econo-boxes, and more!
Finally, I decided on a well-rounded car, that's' fun to drive, gets excellent gas mileage, and is easy to care for long-term.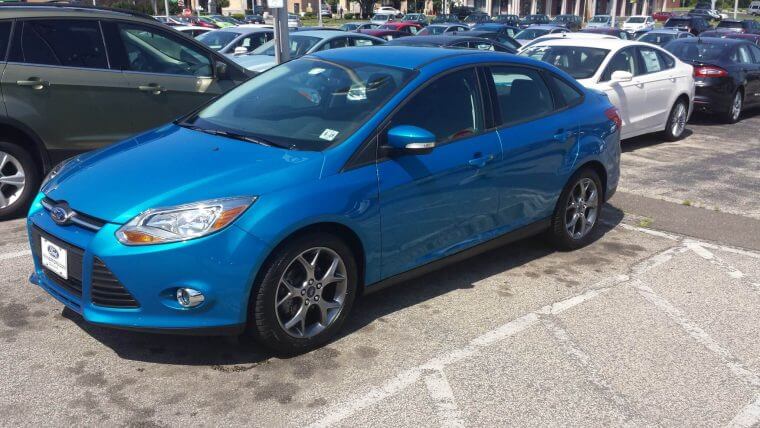 Ford Focus Specs
2014 Ford Focus SE
2.0L direct injected 4 cylinder with 160 HP and 146 lb-ft torque
5-speed MT75 MANUAL transmission
Candy Blue Metallic paint
17 inch nickel alloy wheels
Ford SYNC multimedia, leather seating surfaces, SE Appearance Package, and handling option
TOTAL cost, just under $21,000
Review from 2014 – Why I Loved My Ford Focus Smurf
The Focus is fun to drive with a manual! It has the spirit of a '90's Civic, albeit with far more refinement.
The "new" Focus began with the 2012 Model Year. It's an extremely well thought out design, which also serves chassis duty for the Ford Escape.
Ford marketing "focused" on their world market share, and ponied up the development dollars for their platform design. It paid off.
The direct injected, VVT – variable valve timing, VCT – variable camshaft timing, 160 HP engine gets the job done for daily duties. The car feels nimble, and weighs in around 2,950 pounds.
Using my AIM Solo track GPS several times, acceleration from 0 to 60 MPH took averaged approximately 7 seconds. The quarter mile passed in approximately 15.5 seconds. These are solid numbers for the class.
The manual transmission, however, is fantastic! The shifter has a delicate, yet decisive touch. The throwing action is crisp and responsive. It's easy to see why the Focus is so popular in Europe.
The manual Focus is a drivers' car for its segment. I was able to double-clutch immediately, which is something I picked up from learning how to drive old formula cars with "crash box" – no synchronizer – dogleg transmissions.
The car cannot be heel-toed by me with the pedal's stock placement. However, a Sparco pedal adapter recitfied the issue.
The Cooper XEON RS3-A tires were an excellent choice by Ford. Would I prefer a softer tire? I'm a racer, yes! However, I can't argue with 33.8 MPG on a recent, week long, trip.
In appearance, the "Candy Blue" paint subtly changes with the light. It's a cool look, and I love the vibrancy. I've begun to notice more Focus Smurfs on the road. Maybe it's a trend!
The Ford Focus drives and handles in a balanced manner. Its fully independent suspension feels planted, and is always happy to turn.
I was surprised by how little understeer there is compared to testing the Honda Civic, VW Jetta, VW GTI, and Mazda 3. That's not to say there is no understeer. There is; however, it's not intrusive or annoying.
The steering is electric, like almost all cars today. While it lacks the feel of a hydraulic system, it's accurate. However, at low speeds the variable assist feels highly artificial, which is not uncommon for most cars.
The steering wheel is an ideal size, with all buttons also easy to reach. The wheel tilts and telescopes, which is a must have for me.
Overall, I am very happy with my sexy blue Smurf!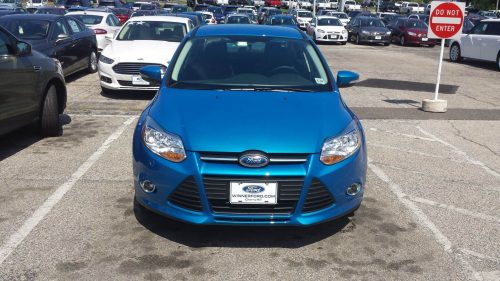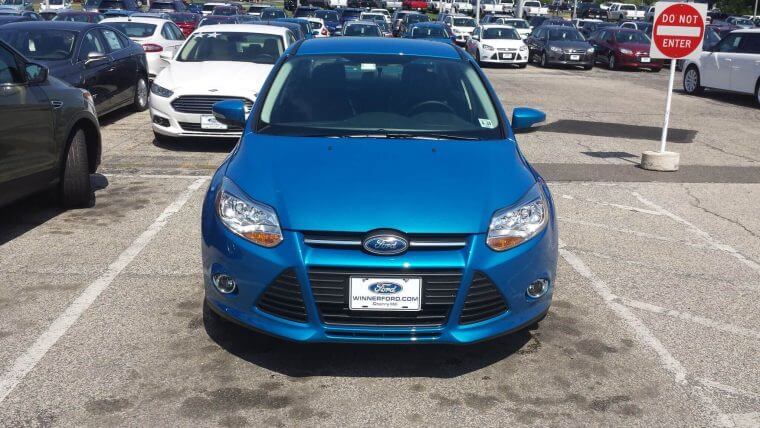 Thoughts As An Owner
I owned Smurfette for a while, and drove her across the East Coast. I had zero regrets in buying her over other cars I considered, like a Honda Civic Si, the Focus ST, a VW GTI or Jetta TDI.
I am fortunate to have a Mustang GT and Subaru WRX STi, which provide plenty of speed thrills.
A compact, "normal," car should be bland and lifeless right? Apparently not, because I've driven Smurfette on a gravel road near Smokey Mountain National Park in Tennesse, and it was some of the most fun I've ever had on a public road!
Said road snakes through a downhill, narrow, passage created by the creek that runs along the driver's left. A humorous 15 MPH speed limit is posted, as the road leaves little margin for error.
It's a relentless onslaught of twists, blind turns, and juicy slopes of camber provided by road engineers who were surely driving enthusiasts.
The road begins on tarmac, and quickly changes to loose dirt and gravel, which is a joy to slide through! I was able to drive Smurfette in a "spirited manner" with great confidence.
The memory lingers. The Ford Focus is an overachiever for its class. The manual transmission is must option in my opinion.
Formerly boring cars are changing. At least for Ford.
Updated early 2019: Ford has discontinued the Focus in America as of this year. However, if you're in the market for a used compact car, don't buy one without giving the Focus a try.
BUILT SMURF TOUGH