Spencer Taylor Racing
My racing career so far.
2017 Racing and Track Season
I bought an Exocet! It's a tube frame chassis car based on the Miata that weighs much less. My Exocet features a turbocharged 1.8L Miata engine producing 210 WHP and 200 WTQ. It weighs 1950 lbs with me it.
It's eligible to compete in NASA ST classes, and SCCA SPU and ITE. While I bought my Exocet somewhat together, it needed over 80 hours of work to get it up to track duty which included installing an entirely new suspension, installation of the custom windshield, turbo, intercooler, turbo exhaust, wing, custom fenders, replacement of every bushing in the car, tuning, and numerous "little things" that added up to a lot of time.
Despite the seemingly strong power to weight ratio of roughly 9.5:1, the Exocet is an aerodynamic brick! It's quick to about 90 MPH then begins to slow. Past 110 MPH, it's like driving with a parachute on track. Due to this characteristic, it makes no sense competing in NASA ST classes as I'll have my ass handed to me!
Regardless, the Exocet is sublime to drive on track and offers an experience only matched by the far faster Atom. It's raw and almost motorcycle like. It took a while to get used to the greatly increased sense of speed on track. Once I did, it became an amazing car to push my talents and sphincter to their limits!
The 2017 season was all about finishing the Exocet build and getting it dialed in for track and racing use. I ran into multiple issue with the fenders, which are the worst designed component on any car today. Despite using custom fenders themselves, the fender mounts broke on three corners. Sadly, I could not race without fenders in any closed wheel group so I was unable to race in the 2017 season. However, I am hoping to have this issue resolved for the 2018 racing season.
I will have a dedicated Exocet page up with details and specs soon.
My 2016 Season Was About Going Faster!
It was an awesome year starting with a total of six days of rally training at Team O'Neil rally school in NH. It was a truly remarkable experience and amazing for learning more refined car control. I worked with RWD, AWD, and FWD cars extensively. Towards the end of the season, I participated in a three-day Bertil Roos open wheel driving school at the brand new Dominion Raceway in VA.
I also had time for a super fun weekend racing my Subaru 2.5 RS in the SCCA SJR JRRC on NJMP Lightning. I proudly set the pole by over a second and a half on a cold and rainy morning. Sadly, I also managed to clock over 20 track days in my STi and Mustang GT.
After 3 years of intensive road course racing, I decided to take the 2015 season off from competition. However, I was no stranger to the track. I've spent 25+ days on a racetrack since 2011 in a variety of non-competition events. My tracking, non-competition, cars include my 2011 Inferno Mustang GT and my 2008 Ariella Subaru STi. My current competition car is a 1998 Subaru 2.5 RS. My home tracks are Thunderbolt and Lightning at NJMP in Millville, NJ.
Bertil Roos Racing School
In November of 2016, I completed the Bertil Roos training at the marvelous new Dominion Raceway in Virginia. Open wheel cars always scared the s&%t out of me, but I vowed to try them and learn as much about driving as possible. Dennis Macchio and his team do an incredible job! I not only got faster but learned a system to continue to challenge myself on track for my life.
Team O'Neil Rally School
I completed the full program at Team O'Neil Rally School in NH over two three day visits – one in sub 0 degree temperatures and one in the spring. It was a truly amazing motorsports training experience that I can't recognize enough! I've caught the bug for Stage Rally, but like all motorsports, it's extremely expensive. Stage rally also posses considerable logistical and other wallet-sapping aspects that I cannot afford for now.
It was an unforgettable experience. Team O'Neil Rally School and Bertil Roos are two schools I recommend without hesitation to anyone who wants to go faster. I can't wait to return to both so I can further develop and refine my driving skills.
2014 Racing Season
Earned a 1st Place Finish at the Prelude to the JRRC! Finally, a win in ITB!
Earned a 2nd Place Finish in ITB for MARRS 9 at Summit Point
Started Threshold Racing with my teammate Chris Rallo
Artemis, the sexy 2005 (shell) Mustang GT enters NASA American Iron competition!
Former teammate Chris Rallo sets a new track record on NJMP Lightning for American Iron
Continue racing the Prelude in SCCA ITB
Was able to track Summit Point ALONE while alternating with a team doing testing!
Rally school at The FIRM – fell in love with dirt
Strangely find Road Atlanta challenging, but uninteresting as a driver…
I officially fall in love with Barber Motorsports Park, my favorite track (so far).
Watkins Glen becomes my favorite Northeast USA track. I like watching the Blue Trees pass by. It soothes me.
"Whoa, I'm an Instructor now." It felt surreal becoming a NASA NE Certified Instructor.
I'm working on our team Website, due out Autumn 2014.
2013 Racing Season
November 2013 Update
My final season update. I ended the season with the Jerk at my home track, NJMP Thunderbolt. This was my second dual weekend within six weeks – see below. It was also my first race this season in my home SCCA region. What a fun weekend!
For the first race / sanction, we ran with the chicane. I had my most consistent race of the season with every lap being within less than a second! That was awesome, and was validation that my determination and track time were paying off. The second race was even more fun.
Jack Banha and I were dog-fighting the whole time. Jack is much faster than me, but he has fun racing. He definitely pushed me to drive much harder, and it was a super fun finish to the season. Overall, I am very happy with the 2013 campaign. I am looking forward to racing Le Gran next season. Plus, she's getting some sexy new Koni's for a holiday present.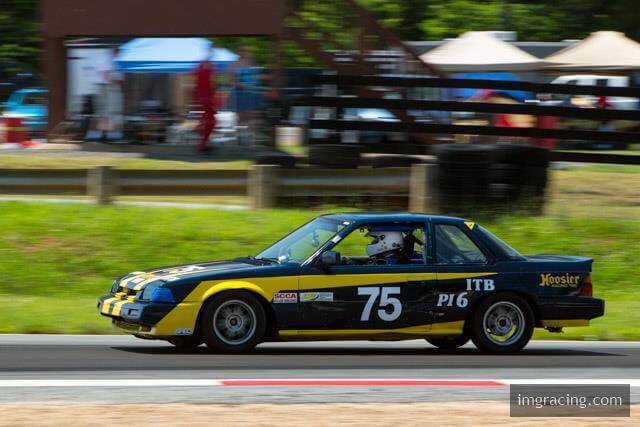 August 2013 Update
While I have not attended an SCCA event yet this year, I have had two weekends racing with IMG – the Independent Motorsports Group at Summit Point and on Lightning at NJMP. Next up, I hope I have time to race in SCCA for two Pro IT days coming on August 17 and 18 at NJMP Thunderbolt, my home track.  Le Gran, my race car procured from Dave Gran has performed exceptionally! It's an incredibly dialed in machine. And I finally got a Cool Suit!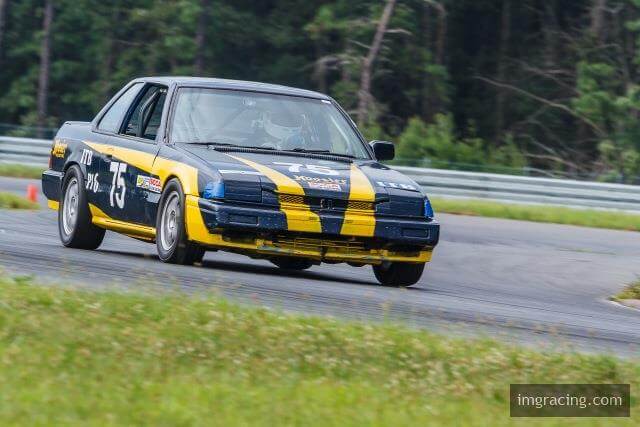 Thank you to Mike Woeller for this great photo!
Spring Pre-Season Update
Racing season is almost upon us! I can't wait to hit the track in full race mode. Over the winter, I purchased a very well sorted Prelude Si from Dave Gran of Go Ahead and Take the Wheel fame. I will have a chance to test her by mid April, well ahead of my first weekend at Pocono Raceway in early May. She's an ITB – Improved Touring "B" class car, built by Kessler Engineering of CT. My buddies at Maximum Attack Motorsports have done an amazing job getting her prepared for racing duty!
January 2013
Received official notice from SCCA HQ that I now have my National Competition License, obtaining my goal of earning it within my first season of racing! One of the most exciting and satisfying moments of my life! Also, I somehow managed to win my Class, ITC, for the 2012 year in New Jersey Road Racing Series. An amazing start to my racing career!
2012 Racing Season
October 21 2012. With the help of Maximum Attack Motorsports, I successfully completed my 6th Sanctioned race on Thunderbolt and became eligible for my SCCA National License!
August 19 2012. I had an awesome racing this weekend with South Jersey Region SCCA on NJMP Thunderbolt. I won my class in both the Regional race and Pro IT race.

July 16 2012. I am very happy and proud to have earned my SCCA Regional License and I will be trying my hardest to earn my SCCA National License this season. Three more signed off races to go! Two coming up August 18th and 19th at NJMP Thunderbolt – one Regional and a Pro IT. I can't wait!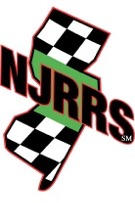 July 1 2012. The heat was a broiling 95 degrees and humid! Never drank so much… I came home with 2 Checkered Flags and made some great new friends! I won my class in the June 30 South Jersey Regional & the July 1 Pro IT. I also earned my SCCA Regional License!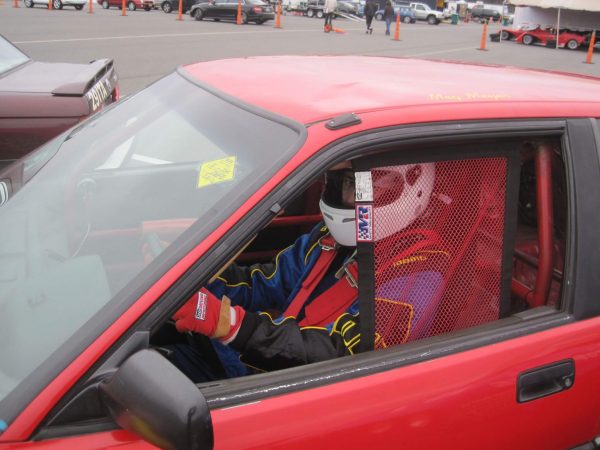 June 16 2012. The Pro IT race was a success! I finished 38th (of 42) overall in the slowest car out there – ITC. First Checkered Flag on NJMP Thunderbolt.
April 1 2012. I passed the SCCA "Double-School," thus beginning my racing career! I attended the school in a purloined Civic, which holds both track records at the Glen and on Thunderbolt NJMP in its class. My hats off to the SCCA, Jersey Racing Board, and Entropy.
January 2013. Received official notice from SCCA HQ that I now have my National Competition License, obtaining my goal of earning it within my first season of racing! One of the most exciting and satisfying moments of my life! Also, I somehow managed to win my Class, ITC, for the 2012 year in New Jersey Road Racing Series. An amazing start to my racing career!