Since 2012, my beloved 2008 Subaru WRX STi  is a tremendous amount of fun as a track car!
2008 Subaru STi Track Car for Sale
FRESH ENGINE / TURBO for turn-key track days, Autocross, or wicked daily driver. No accidents! I now have a race car, and sadly the STI has to go.
ENGINE, turbo, clutch, headers, and downpipe are BRAND NEW. She makes 380 WHP and 405 WTQ.
There's a tear in the rear bumper cover and a minor scratch on the hood. This STi needs NOTHING and is ready to go.
Update Winter 2018
I took my STi back to Agile Performance in Maryland where I've had excellent experiences.
She needed her engine rebuilt after track duty. I upgraded to a Blouch 2.5 XT-R turbo, up from my previous 1.5 XT-R, Swain ceramic coated Tomei equal length headers, along with a new Nvidia downpipe.
She came out making 380 WHP and 405 WTQ on the DynaPack AWD dyno.
In action with a Porsche GT3 on NJMP Thunderbolt
Update Fall 2016
The '16 season ended well with my STi running beautifully. She's been on track for 4 years now. She now has a better optimized water methanol setup, refined ECU tuning and the suspension setup including, KW V3 coilovers which replaced the non-adjustable Bilstein's I used for a couple of years.
Update Spring 2015
My sexy Subaru STi, got a Blouch Dominator 1.5 XT-R turbo, a freshly built competition engine with Cosworth internals, Brian Crowler cams, racing valves / springs, bore alignment and a fully balanced assembly. I've been sliding her around my home tracks of Thunderbolt and Lightning at NJMP .
NJMP Drivers Club June 2014 with a Nissan GT-R
Subaru STi race track Fun
The STi is one of the most fun cars around in my opinion. With a Torsen 2 limited slip in back, a helical limited slip up front, a 30 to 100 magneto-servo locking center differential that operates on the fly, and a nearly indestructible 6 speed, the STi is a formidable force to be reckoned with.
Subaru STi DCCD & VDC differential explained
Please remember that your Insurance will not cover you on track. Take your time and slowly build up lower lap times until you are sure of how your STi will behave. In dry conditions, you want to increase the rear bias as much as possible with the DCCD in manual minus mode (fully to the rear or one bar at the bottom of the DCCD display).
This is especially true using R comp or grippy tires like a Toyo R888, Michelin Pilot Sport Cup, Nitto NT01, and reduces understeer a significant amt. You will also need to turn off the traction control (TCS) or the STi will pull torque in a turn which is unpredictable and slow.
Amber Mode versus Green Mode, what are they?
Tapping the VDC button once turns it amber on 08-10 Subaru STi's and holding the button turns it green. Green (08-10) is the same as Track Mode on 11+ STi's.
In Amber Mode, the Traction Control will be turned off and Stability Control will be relaxed.
In Green Mode, a.k.a Track Mode, BOTH stability control AND traction control are defeated.
There's a caveat! The Subaru ABS system works poorly in high-grip road course conditions in Track Mode (Green Mode). Under threshold braking, the ass of the STi will wiggle around. After years of experimenting, I've found that Traction Control off ONLY, a.k.a Amber Mode, works better on a racetrack with braking being linear and controlled.

I realize this doesn't make sense; however, this is how Subaru chose to calibrate their ABS module. The only other option is an expensive stand-alone ABS system similar to Rally cars and fully custom builds.
To the contrary to misinformation I've seen, using the DCCD manual mode will NOT damage your STi. This merely changes the center differential's torque bias. It has no effect on mechanical wear. However, the mode that CAN damage your STi is LOCKING the center diff.
This is done by pushing the DCCD selector up in manual mode until you see "LOCK" on your dash. This mode literally locks your center diff and makes the front and rear torque equal. It's similar to 4WD in a truck or Jeep but without using a separate gear set. This mode is for off-road and low traction usage like on ice. Prolonged usage at higher speeds can overheat the DCCD unit.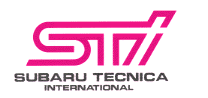 My Subaru STi on NJMP Thunderbolt
Back in 2012…
Ariella started as an unmolested 2008 Subaru STi with approximately 36,000 miles. She was purchased in October of 2012.
A Subaru STi is designed to get dirty and play rough. They're not content being a fast grocery getter, or living a mundane, suburbanite, existence. They seek out daring and unusual work!
Engine
Built EJ257 competition block by Agile Performance
Cosworth forged pistons
Cosworth forged rods
Blouch 2.5 XT-R turbo
TOMEI equal-length headers with up-pipe
Process West TMIC
Custom aluminum Y pipe
Brakes and Wheels
Brembo STi factory calipers
HAWK DTC 60 brake pads
Enkei PF01 18 by 8.5 inch bright metallic wheels
Enkei PF01 18 by 9 inch black matte wheels
BBS factory wheels with winter performance tires
Driveline
ACT clutch
Cobb cold air intake
Invidia downpipe
Invidia exhaust
Custom Setrab oil cooler
Perrin subframe and diff lockdown bushings
Perrin metal tranny mount
Cobb adjustable shifter
Methanol Injection
USRT Peacekeeper intercooler misting kit
225 cc post turbo nozzle
70 cc post throttle nozzle
Snow Performance Stage 2 controller
AEM methanol fail-safe
Safety
Sparco EVO 2 FIA driver's seat
6 point FIA harnesses to chassis
Corbeau passenger seat
Sparco harness bar
HANS device – always
Trained and humble driver