What is the new Windows 10 News and Interests Feature?
After updating Windows 10, I have a new News and Interests app in my Taskbar. Here is what the new feature looks like: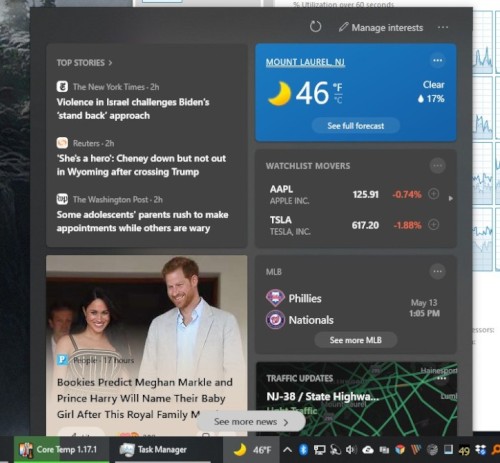 Windows 10 has a habit of adding features we are not asking for from Microsoft. But worse, Windows has a habit of shoving them down our necks.
The following applies to all Windows 10 versions starting with the May 11, 2021 Patch Tuesday update. It may only be for the Windows 21H1 version that gets the feature for now.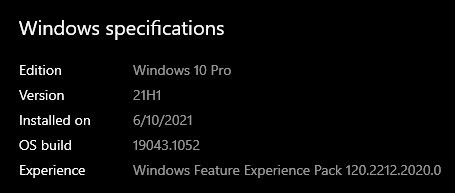 How to get rid of the Windows 10 News and Interests Feature on your Taskbar
Here are the steps necessary to hide the Windows 10 News and Interests or use an icon only to display it.
Step 1 – Right Click on the Windows Taskbar Properties
On the right side of the Windows taskbar, where the app icons are, right-click to open the menu we need.
Note, sometimes it can be a pain to get the Taskbar properties to show versus the specific options for other apps. What always works for me is right-clicking on the clock itself. Give it a try.
Here's what the Taskbar Properties options look like.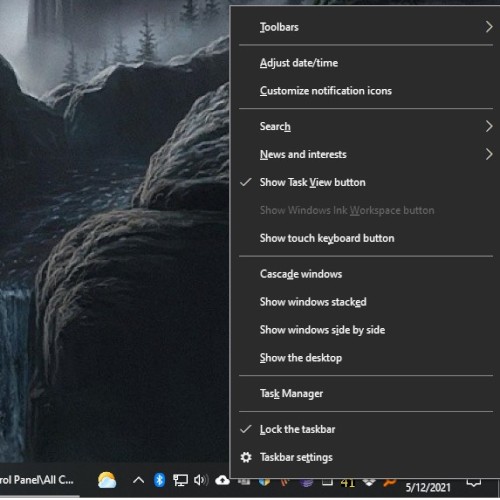 Step 2 – Select the News and Interests feature in the Taskbar
Here you can see that there are three options now available.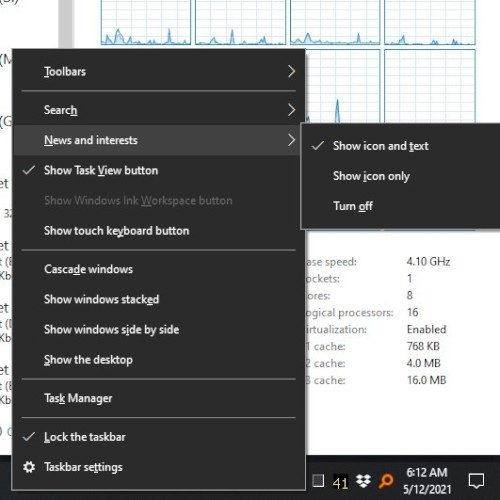 Step 3 – Turn off the News and Interests feature.
It's straightforward. Select whether you want to show the icon and text, show the icon only, or turn off the new Windows 10 feature.
Here is what it looks like when you turn off the News and Interests feature. You will no longer see the feature on your Taskbar.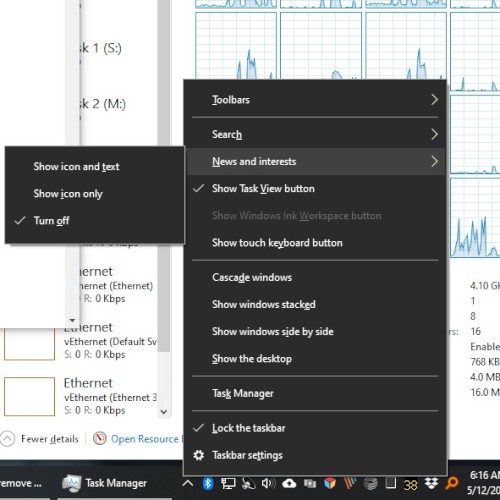 Step 4 – Choose to use the Icon Only mode for News and Interests.
The idea of quick access to news stories is something I do want available, so I am using the Icon Only display, as you can see below.
The Icon Only option takes up little room and can be handy.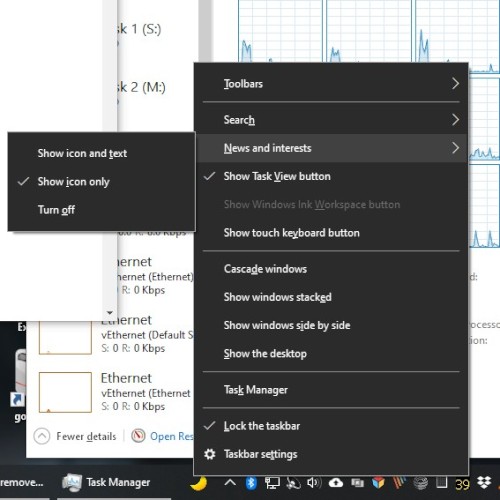 I chose to use the Icon Only mode for News and Notifications in Windows 10. The icon will change in reaction to the weather.
I'm willing to give it a try.

News and Interests benefits for those interested
Microsoft is pushing another feature update on us in Windows 10. In this particular case, the feature is interesting. I'm giving it a try.
Here are a couple of things the new feature can do.
It can display news from a wide array of sources that you can personalize.
Weather information and alerts are helpful.
For freelancers like me, it's a great place to keep news and updates in one place if you want to check in on what is happening from your PC or laptop.
The Icon Only mode is not too invasive – this is the feature of the app that sold me on it.
Microsoft is offering a lot of interests to choose from – more than other services in my experience. For example, I follow auto racing, and they have it out of the box.
Manage the options for News and Interests.
Conclusion
The new News and Interests feature in Windows 10 is surprisingly helpful. In fact, I recommend giving it a try.
However, it is not cool of Microsoft to force the feature on us, especially with no explanation of how to turn it off in Windows.
It would be better if they were to offer its benefits after updating and give us a choice.
I hope this article was helpful! Please feel free to contact me with any thoughts or comments about your experience with the News and Interests feature.