Facebook Pages Feed – Frustration, Temptation, So Bad It Makes You Cry…
Updated 12/20/2020
Dear readers, please note that Facebook has again changed the way we can access our Page Feeds. This article includes all the ways to access your feed to the best of my knowledge. The method below also works with the Business Manager.
Important update, there was a workaround to get to your Facebook Pages Feed from a mobile browser. Sadly, it no longer works. You can no longer access the full desktop on mobile browsers.
What Happened to the Facebook Page News Feed?
Are you frustrated with the odd way that Facebook Pages attempts to integrate your profile, e.g. your personal account with your business or brand's Page?
Have you wondered why it's so darn difficult to find your Pages feed so you can use Facebook like a Page or Brand? This post is for you!
Every attempt to keep this article up to date is made, and these methods work for the majority of readers. If you find that the methods below do not work for you, kindly email me.
Find Your Facebook Pages Feed On Desktop
IMPORTANT NOTE: the features that are available below are only available in the "New Facebook" interface. What does this mean? As of the summer of 2020, Facebook is in the process of rolling out its new look and feel to everyone. However, it's possible that you may still be on Classic Facebook.
If you are using the "Classic Facebook," you will need to switch to the New Facebook interface to use these functions. Find the small, downward-facing, arrow in the far right-hand corner of the top menu bar – see image below. Click on that, and you will have the option to switch to the new Facebook.

Before you switch, it is important to know that you cannot go back to the Classic Facebook. However, not only is the new interface much better, Facebook will force you to use it soon. But please note, you know the deal going into this. I don't make the rules.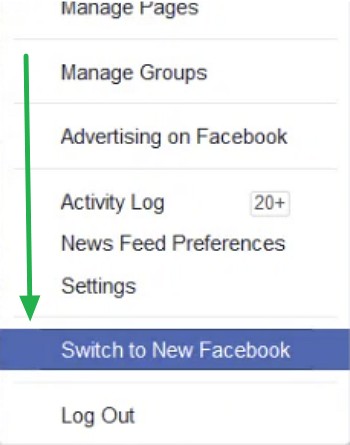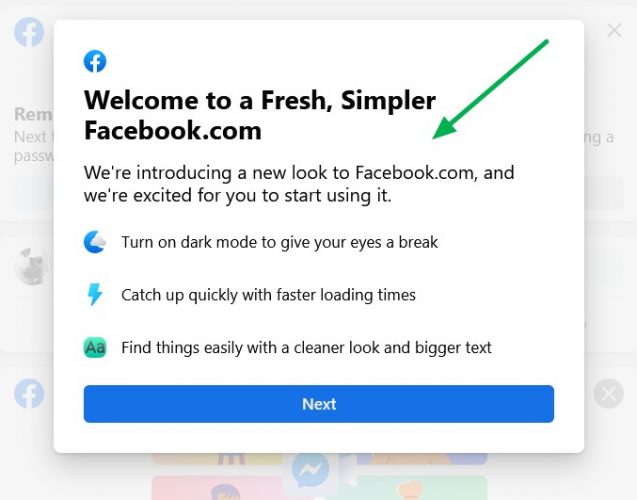 To see your Page Feed, the "trick" is that you must be logged in to Facebook as a PAGE, and not as a PERSON.
Few people explicitly use Facebook as their Page. We usually use FB as a "profile." The idea of using Facebook as a person or as a Page or brand can be confusing. But I promise it will make sense below.
So, let me walk you through how to do this!
Step 1 – Page Feed Desktop
Expand the menu by clicking on the Facebook logo above your profile image on the upper left-hand side of the page. Please note, that your profile image will be showing directly below the Facebook logo, as shown in my image below.
Are you using Facebook Business Manager? This method works for you, too.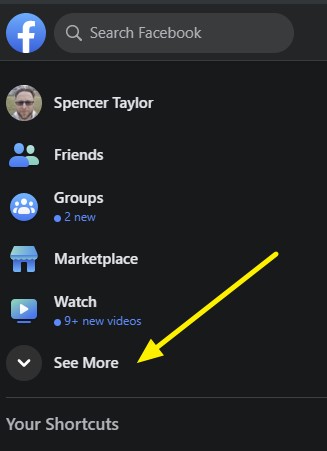 You may need to click on "see more" as shown directly above with the yellow arrow. Next, click on Pages in the menu.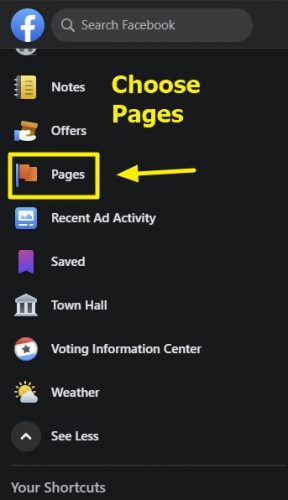 Note, I am using the sexy new Dark Mode for Facebook in the images below. The content is identical to the "white" version of the website.
Step 2 – Page Feed Desktop
Next, select the Page you need from the menu and click it. You may need to click on "See All Pages" if you have a long list of Pages.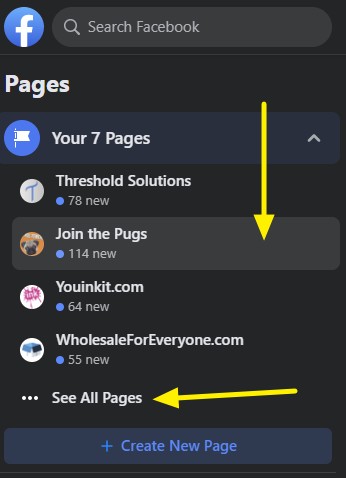 Step 3 – Page Feed Desktop
Now, you are now logged into Facebook as your Page, which is what causes understandable confusion for many people.
Note, you should now see the image of your Page logo or avatar in the upper-left corner of the webpage, and not your personal or "profile" image. Please see the image below.
You will see the News Feed on the left-side menu, as shown by the yellow arrow.
If you do not see your Page logo or avatar like in the image below, you will not be able to get to the Page Feed. It's also possible that you did not select "Pages" from the menu in the first step, above.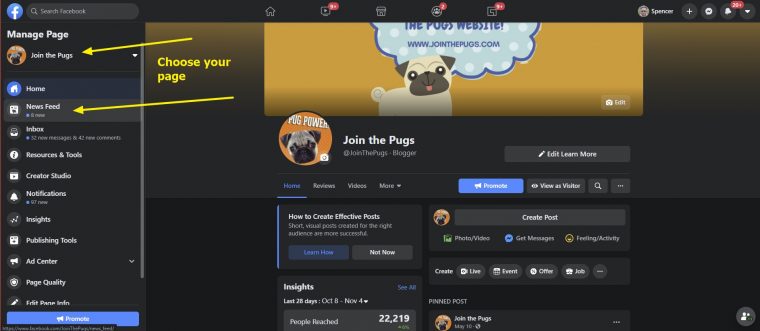 Finally, here's the view of my Page News Feed in November 2020 using the new Facebook Dark Mode.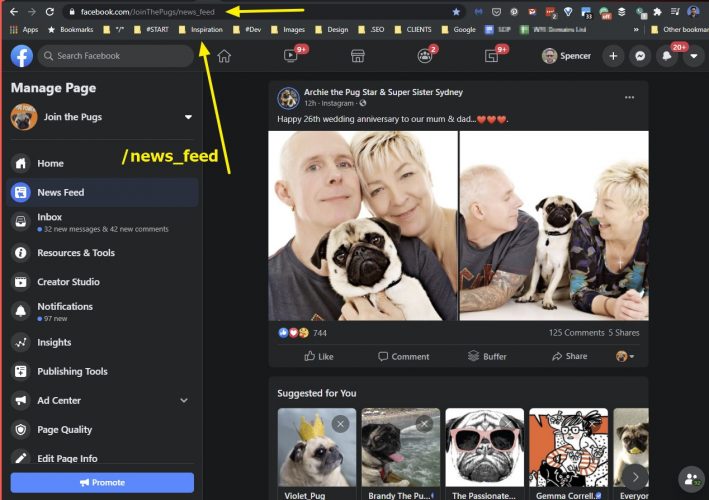 How To Use The News Feed Link To Access Your Page Feed
You cannot view your Page Feed unless you are logged into Facebook as your PAGE – explained in the article above. If you missed the step, please scroll up because the Page Feed will not work using a profile, or "personal" account.
However, if you stay logged in as your page normally, like with a brand or business, you can use this handy shortcut.
All you need to do is append /news_feed/ to the end of your Page's permalink like this:
https://facebook.com/MyPageName/news_feed
How weird is it that Facebook does not share the link anywhere with us? The downside to this method is that it works for desktop browsers only, to the best of my knowledge.
NOTE: folks are emailing me sharing that if the first method is not working, adding News Feed to the URL often works. Give it a try if the Pages Feed won't show up for you in the menu.
Page Manager And The Facebook Business Suite Apps
You can also download the Facebook Business Suite app, formerly the Facebook Page Manager. The app now gives you the same direct access and features as the Page Feed desktop browser version.
It is an excellent way to manage your Pages on mobile devices like phones and tablets.
In most circumstances when someone who contacts me cannot find their Facebook Page Feed on desktop, it works for them on the app.
Download The App For Android or iPhone / iPad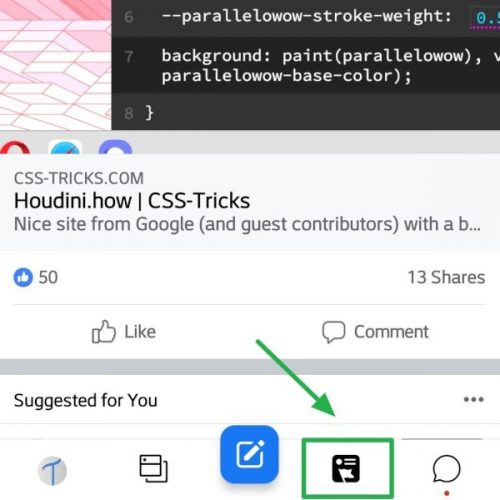 The Facebook Page News Feed Has No Love For Mobile Browsers!
There is no official way to access your Pages Feed on the Facebook app or Page Manager app. It's only available on desktop browsers. Why Facebook removed this essential functionality from mobile is beyond me.
Until recently, there was a workaround for mobile browsers, but sadly, Facebook has removed access to it. I had to remove the instructions because they no longer work.
Troubleshooting Facebook Pages News Feed 2021
Most of the emails I receive are about people successfully accessing the News Feed. However, a few folks message me that no matter what they do, they can't access the Pages Feed.
The image below is from the January 2021 New Facebook interface. Other than using Dark Mode, there is nothing special or different about my set up, and the Facebook Pages News Feed works for me.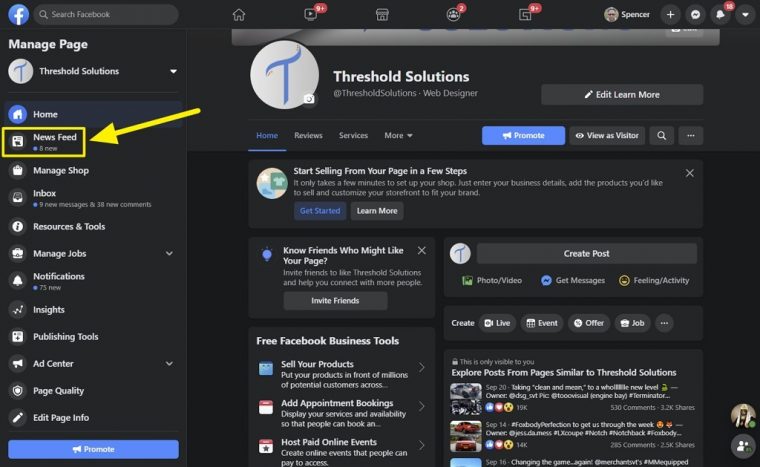 Above, you can see where my "profile" is for Threshold Solutions – my Web Design agency. The News Feed is clearly visible below the home link in the left menu.
The screenshot is from December 20th, 2020, and has the latest update applied. According to Facebook, everyone will be on this version of the Interface by December 25th, 2020, in preparation for 2021.
It's important to remember that the News Feed will only work if you are using Facebook as a PAGE. In most cases, this is where people are getting caught up.
When you switch to acting as a Page, you will see a notification pop up that says, "Interacting with Facebook as 'X' Page."
Here is the dialog that you will see: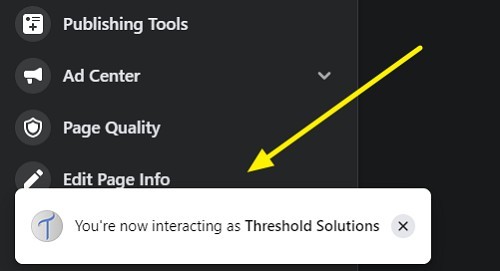 If you are not seeing this notification, you are not acting as a Page, and therefore will not be able to see the News Feed.
If it's not working for you, please look through the instructions again. It's working for most people reading this based on the messages I receive. There is nothing special I am doing.
Further Down The Facebook Pages Rabbit Hole
Is there a particular feature of Facebook, or another Social Media platform, that you would like to learn more about? Please contact me.
If the above instructions do not work for you, kindly email me at spencer@spencer-taylor.com and let me know. Facebook is notorious for launching updates without telling anyone.
I will continue to update this article with the latest information, and you are my best source! Thank you to everyone for reaching out to me so far – you rock.