Search Facebook Messages on Mobile and Desktop
It's Amazon Prime Day at 11:49 pm. I've decided to snag that amazing deal my friend was telling me about on Facebook Messenger earlier in the day, but I can only find it with her link. I can't call her at almost midnight – that's rude! Now the sale's almost over. What can I do? This stinks.
Does the above Facebook Messenger situation describe any experience you've had? It's what prompted me to learn how to search everything in Facebook Messenger.
No longer shall I scroll up ten pages of messages to find information. Who has the time?
Sadly, Facebook has made searching our messages a pain to find. I'd like to save you time by teaching you how to search Facebook Messenger.
I'm going to show you how to search Facebook Messenger on desktop first and then on mobile.
Facebook offers more powerful Messenger search features on desktop which you may need. If you are solely looking to search the Messenger app on mobile, scroll down just a few lines.
Let's dive in!
Facebook Messenger does everything easily except searching our messages!
Facebook Messenger is a significant communication tool for many of us. It sends messages, phone calls, video calls, SMS (text) messages, has cute GIF's.
In fact, well over one billion people use Facebook Messenger!
So why would Facebook hide the simple functionality of search from us? It's infuriating. Albeit, it's not so much hidden as tough to locate.
Did you know that Facebook has launched Messenger as a stand-alone browser product last year? It's available at this link.
Step 1: Open Facebook Messenger.
While there are many ways to open Facebook Messenger in a browser, I'm going to start by selecting it from my friend's profile, known in the Facebook parlance as our Timeline.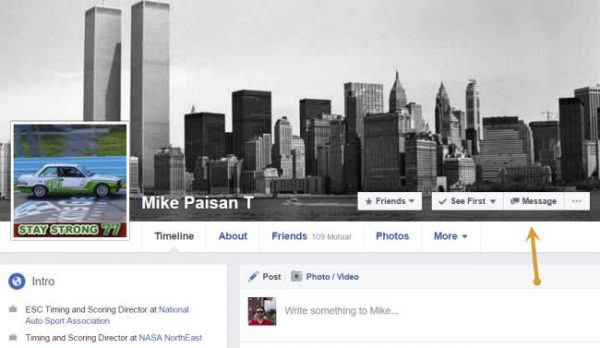 Step 2: The Messenger browser interface will now launch. Now, click on the gear icon and then click on "See full conversation."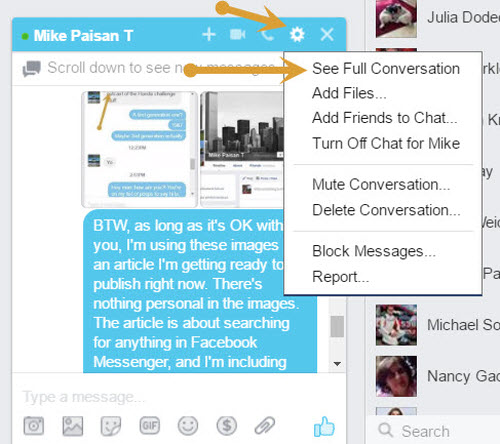 Step 3: Your whole conversation will now open.
Note that there are some new options only available in the full conversation view like the search icon in the upper-right hand corner.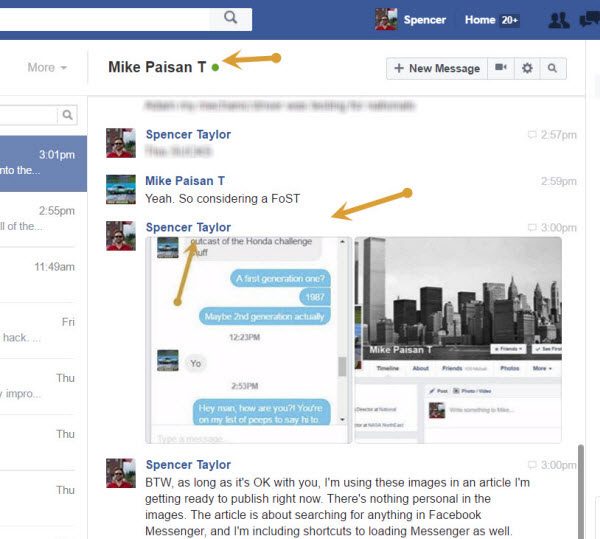 Step 4: Now, you can search for anything! It can be that restaurant mentioned in a conversation months ago, or even a juicy discount code your friend sent you.
Note for those interested in Facebook advertising; the displayed ads are contextual. Our conversation is about racing, and voilà race car ads appear.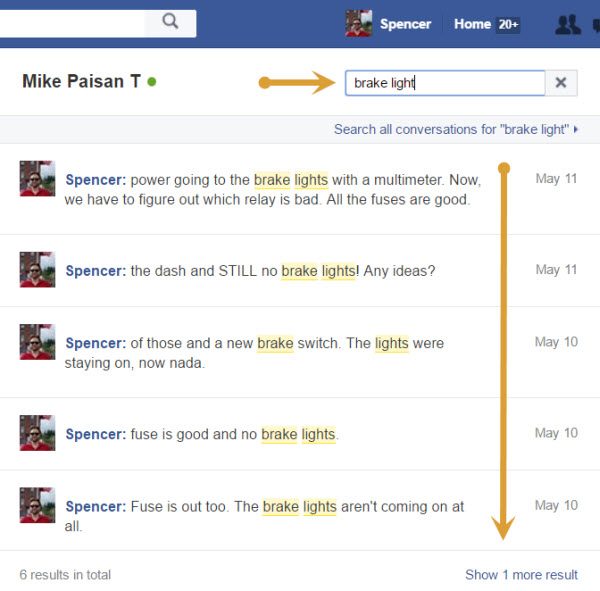 How can I search the Facebook Messenger app on my Android or iPhone?
To the best of my knowledge, there is no direct way to search Facebook Messenger in the mobile app.
However, there is a workaround for this using mobile browsers. Let me show you!
Step 1: Open your mobile browser. Click the three vertical dots on the upper right, and the choose "Request desktop page" from the menu.
Here's an example image from Google Chrome mobile below.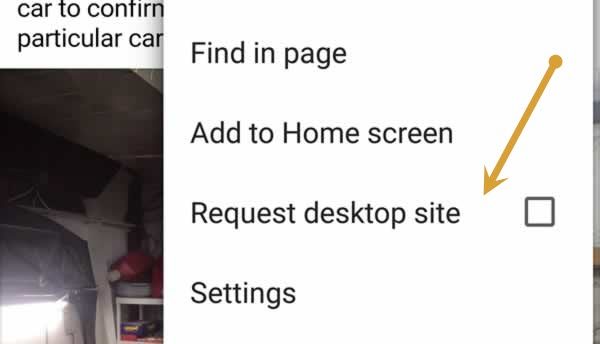 Step 2: Use the conversation icon to open Messenger. You will also see the messages search icon at the top after the notifications icon.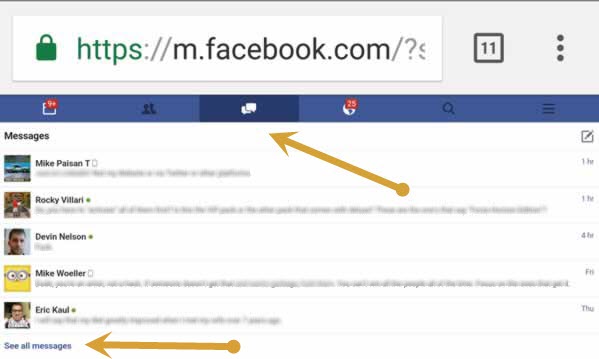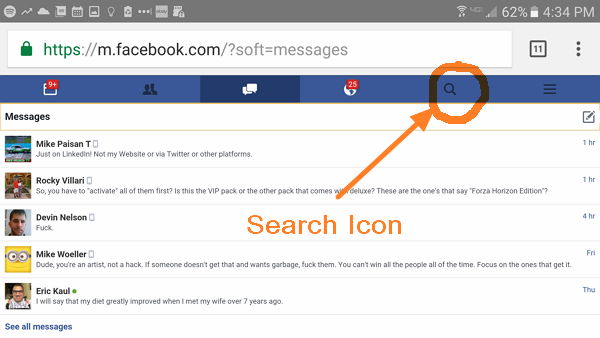 Step 3: You can now search all your Facebook Messenger messages on mobile!

The browser method seems overly complicated in my opinion; however, I believe Facebook is deliberately focused on driving users to install the Messenger app (even though you can't search it).
As I mention at the beginning of this article, searching Facebook messages is much easier on desktop. However, you can see there are some basic tools to find what you need in a mobile browser.
I hope these tips on searching Facebook Messenger are helpful.
If you have any questions, please contact me for help.
Be sure to check out the great tips below, or see my blog. 
Similar Posts: