Grammar makes your content great.
What if I told you there is a tool that will improve every aspect of your writing and allow you to focus on being more efficient in nearly any business, academic, or creative endeavor?
What if I told you it works in your Chrome browser, on your Mac or PC, in conjunction with Microsoft Word, or by itself. Moreover, what if I told you this tool, with limitations, is offered for free? Do I have your attention?
Yes, there truly is a fantastic tool which will help you create the best content possible for your audience and put you in control of your grammar. Wait, did you say grammar? Yes, I certainly did.
To be clear, it's not that most of us are necessarily bad at grammar. However, if you're like me, you need to write a lot of content while always chasing the clock.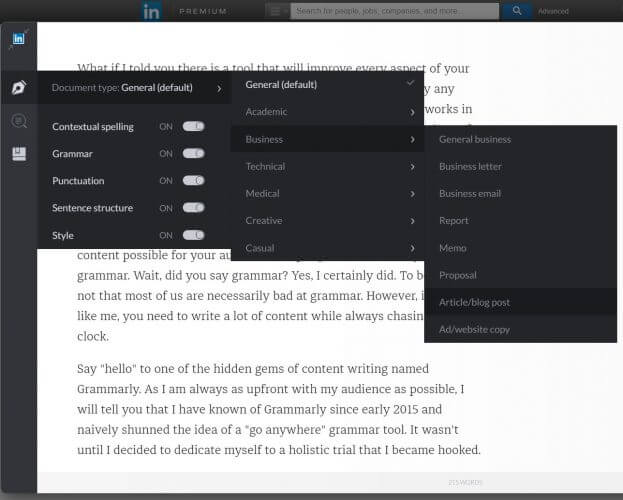 Say "hello" to one of the hidden gems of content writing named Grammarly. As I am always as upfront with my audience as possible, I will tell you that I have known of Grammarly since early 2015 and naively shunned the idea of a "go anywhere" grammar tool.
It wasn't until I decided to dedicate myself to a holistic trial that I became hooked.
Why is Grammarly different for content?
We are all familiar with the red and green lines of Microsoft Word – the viciousness of its hues are palpable.
However, there are numerous problems with Word being a viable writing solution in today's mobile environment.
Sadly, Word does not interact with our browsers. How many times have you hit enter on LinkedIn and then noticed mistakes? If you're like me, it makes you want to rip your hair out!
Overwhelmingly, the errors I make are because of rushing and the lack of any tool checking my work outside of a browser spellchecker.
How many emails have you sent that you wish you could snatch back from the digital abyss? We've all been there.
Let's look at where Grammarly does work for content writing.
In your Chrome browser – this includes Gmail or other email apps, calendar apps,LinkedIn and other social networks, and almost any place you write online. The only exception I can think of is within Facebook Messenger which is not an issue for me.
Grammarly doesn't care whether you're a Mac or PC. It works in Chrome on both, as well in as in its stand-alone native application which is similar to other word processing tools and synchronizes between your devices.
It's easy to avoid writing faux pas with Grammarly's plagiarism checker. This functionality is especially useful for students and speech writers. Sadly, the free version lacks this feature.
Grammarly has a plug-in that allows you to utilize its features while composing in Word. The combination of both offers the best of all tools available.
The most notable exclusions are smartphones and mobile apps, and browsers besides Chrome. However, Chrome is perfect for most tasks and is the most used browser on Earth.
Can I continually have my grammar checked for content writing online?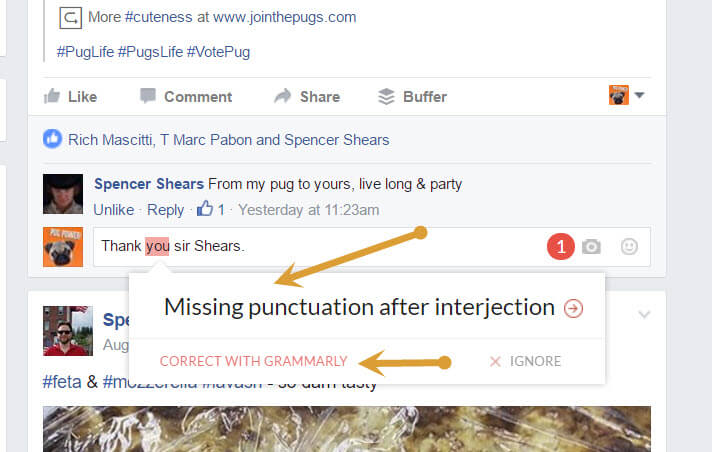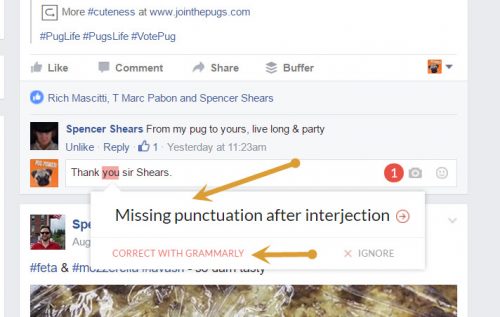 Yes, and that's the coup de grâce of Grammarly! Like me, are you are involved in any content creation, content curation?
Are you writing on multiple social networks, creating emails, writing copy, and more, all day long? There is no other tool I have encountered as flexible and as helpful.
Why Microsoft has not extended the capability of Word to do the same thing, I will never understand.

Should you try Grammarly?
I would recommend it to anyone.
The free version offers an array of features including the most important part, being a part of your online experience. It has been enormously helpful to myself and many content writers and bloggers I have spoken with, as well as many students I know.
For my usage needs, I chose to pay for the premium version of Grammarly. However, this is entirely optional. If you are interested in the paid version after trying it, be sure to search for discount codes.
I saved almost 40 percent. Discover the easier way to create great, stress-free, content.
Have a question? Contact me below.