Why does MailChimp Snap rock?
I love email marketing, so the relatively new MailChimp Snap app has me fired up! Based on my experience, Snap is an absolute must have tool for your marketing arsenal.
It's the first app from a major email marketing provider to focus solely on mobile-created email campaigns.
I'm going to demonstrate why you should try MailChimp Snap and offer you three great tips to capitalize on Snap's highly engaging emails at the end of this post.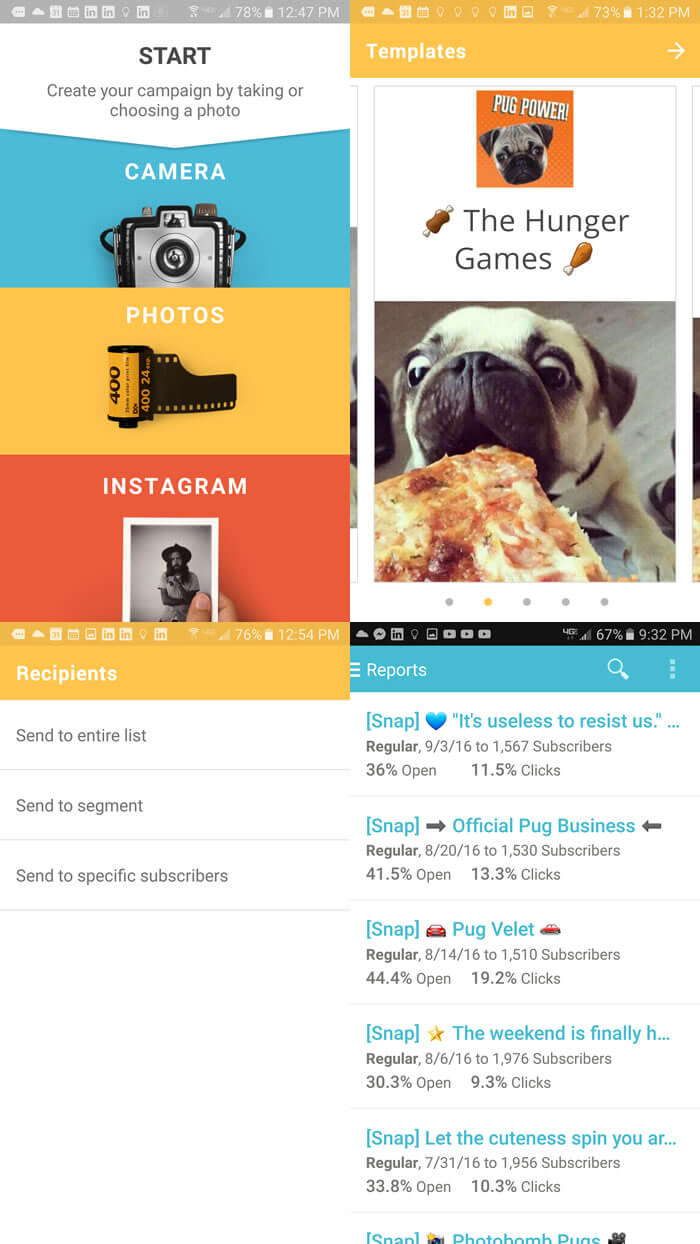 How does Snap work?
Unlike most significant email apps, Snap lives and works solely on your iPhone or Android device. It's available here in the App Store and here for Google Play.
Within the app, you will find options to select your MailChimp lists, select segments, and, of course, share images including native Instagram support! Yes, it's that darn good.
The app's design and purpose are reminiscent of Instagram, too. Its approach to connecting with your audience is highly visual and focuses your viewer on a single button to click.
This simplicity belies the power of MailChimp Snap. I found that often in marketing, less is more.
You will pick from one of the several templates to display your image and copy. While some may find this limiting, I find it liberating.
My sole focus with a MailChimp Snap email campaign is drive engagement for traffic or conversions. Concentrate on the content, as this is what will get you juicy open and click rates.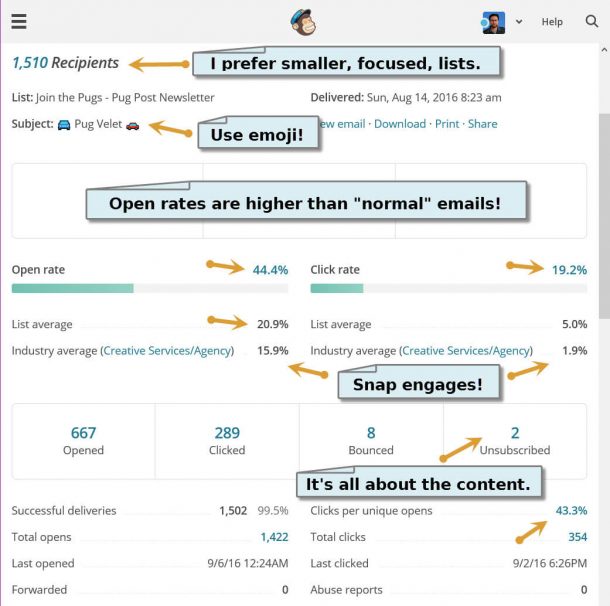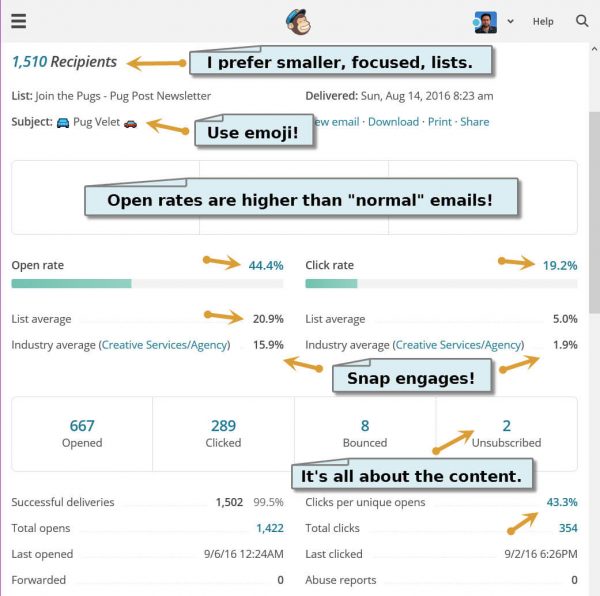 What can you do with Snap?
The ability to send incredible marketing emails any time from your smartphone is the evolution of email marketing and its convergence with social media.
Even more powerful, is the ability to send dynamic emails to segments of your audience from your phone. Imagine how you can send enticing messages to drive sales or engagement within any vertical of your business. The possibilities are inspiring.
I'll use an example of how I'm using Snap to build engagement for one of my favorite projects. Join the Pugs is a branded Pug dog community I created for fun and to try out many ideas with an engaged, niche audience, between social media like Pinterest and Facebook, and its barking mad Website.
In this email, I am using Snap to tell my audience about the brand's new Instagram account. Snap is a great example of how to use your existing audience to grow new social media platforms.
The same idea applies to driving traffic to a product, a service, or Webinar. The opportunities with Snap are limited only by the imagination.

Snap drives clicks
Tips to succeed day one with MailChimp Snap
Always remember to share your emails as posts on social media. Social email posts can often get more views than sent emails! I focus on sharing email campaigns on Facebook, Twitter, Instagram, and Pinterest.
Remember to concentrate on the copy that converts when shared as this is another opportunity to engage your audience.
The next step is posting your segmented list email campaigns to segments of your audience. Two ways I do this are with Facebook Audiences selection during posting and saving emails as a pin to a particular board on Pinterest. Twitter lists work in the same manner.
Want to go further?
Copy your campaign's eepurl link into Facebook with engaging text and save it as a Dark Post (unpublished post publicly). Ensure that your post's text will get your audience clicking on your ad.
Now you can advertise your email as a post while targeting Custom Audiences on Facebook (see Jon Loomer's linked article) and Instagram while keeping the content hidden from folks outside your selected audience.
How can you not love online marketing? We have the coolest and most creative tools to connect with our audience!
I can't think of another industry as exciting to be a part of for myself. I hope this post may spark a creative trial of Snap. It's available to all MailChimp users, including "Forever Free" accounts.
Embrace the opportunities it affords us.